Stable Beuving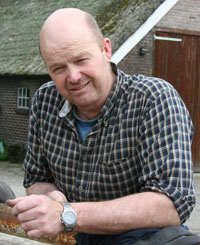 Stable "Beuving" is owned by Albertus, Riena and Renate Beuving. From 1986 Albertus and Riena are running a farmerscompany, ont the edge of the beautifull village of Odoorn.
Albertus Beuving
Albertus Beuving is borning in Odoorn and living there sinds then.
He works on a daily base on his farm excisting off agrycultere and a bullfarm with 220 pink calves.
From his youth Albertus involved in the equestrian.
His first pony was Rita, with her he became Clubchampion and after her Albertus get his first horse; Nero. Followed by a couple other horses. With the horses he became M2 dressure and M jumping.
There wasn't a lot of time to ride, because he was working fulltime on the farm of his parents. Nowdays he goes every weekend with his daughter to her equestrian competitions. His daughter, Renate, focuses entirely ON horseriding and in particular of training jumpers. Also visting of stallion inspections, KWPN tests and stallion shows so to keep up the breeding. On the farm there is a small breed and every year there born 2 or 3 foals.
Riena Beuving-Steenbergen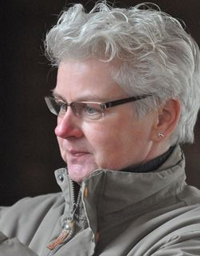 In her daily base she works halve a day in the care in Borger.
Her horseriding live started when she was 8 years old. After 3 years spending her time daily in the Manage to ride on everybodies horses, she got a pony for herself on her birthday named Collin.
After Collin there came Antiorix with him, she was M2 dressure and M jumping.
In 1980, Riena get her first horse; Tonthi (father Karaat). With him, she was also M2 dressure and M jumping but also the Clubchampion.
Afther Tonthi there came a lot of other horses and Riena was with them in to the M or higher.
Renate Beuving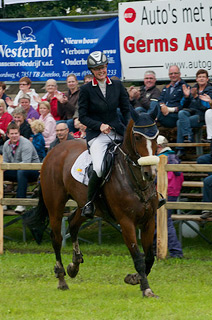 There daughter Renate Beuving is off course born in Odoorn, where she is still living.
Her love for horseriding started when she was 2 years old; her first pony, Black Beauty came. After him there followed Bronco and Tango. Those ponies teached Renate how to learn horseriding. When she knew how to ride a horse she get a 3,5 years old pony Bugs Bunny (father Ralph) and few years later the 3,5 years old Ten Ankers Patroball. Renate trained both ponies by herself. With both ponies she won a lot of Champion titles of the province Drenthe but also in the rest of the Netherlands. After a few years Bugs Bunny was sold through VDL-Stud to Zweden and Ten Ankers Patroball through Jan Broek to the USA. Under the name Enchanted Forest, was Ten Ankers Patroball given in the Hunterclass of the USA. In 2007 Ten Ankers Patroball became Champion Hunter.
After the little ponies, Renate get higher ponies among other Mr J.J. Mr J.J. was a 8 years old stallion. With him Renate became in 1,5 year Z jumping as follow she get in the B-selection of the Netherlands accompanied by Wim Bonhof. Renate ride A couple of International competition with Mr. J.J. with very good results.
After Mr. J.J there came, through Jaco Ansems, the falcon staillon, Orchid's Cestanii and later Butterfly Flip. Both ponies came in training by Renate. So before Orchid's Cestanii sold, he was M2 dressure and double Z jumping.
For Butterfly Flip and Renate came a not peacefull time, becaus the pony broke his pencil leg. It was the end of the sport with this horse, but a very good broodmare. With her they get a very luxury foal (father Kanshebber). After a few years of walking in the pasture, Butterfly Flip went to acquaintances to functioning as a learning pony. Now adays Butterfly Flip is jumping Z.
In the latest of her pony time, Renate ride the New-Forrest stallions Franklin (father Nieuwmoed's Patrick) and Mikel (father Wicked Courtjester) and a lot of other pony for the trade.
In 2007 Renate stepped completely over to the horses. The most of them are own bred horses among others;
Tikarla (father Indoctro) to the Z jumping, now a days she is the a very good broodmare
Remy Martin (father Ahorn) to the double Z jumping, International.
Vadolca Karla (father Voltaire) to the double Z jumping, International.
Renate ride also a for about 6 other horses for different people. She trained them to a higher class or to sell.
Renate is a official Allround ORUN-instructor.
If there is information you want to know from us or any questions, please contact us any time on email.